Sani-Tyze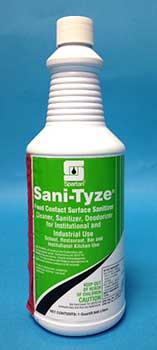 Sani-Tyze, food contact surface sanitizer, is a ready-to-use quaternary-based cleaner, sanitizer and deodorizer. It is safe to use on marble, travertine, limestone, terrazzo, granite, and slate. It is formulated to be used on surfaces where food is processed, prepared, served or eaten. The formula is clear and will not stain surfaces. Sani-Tyze leaves no grit or soap scum. Sani-Tyze can be used as a light duty cleaner on multi-touch areas such as bathroom and kitchen surfaces. Sani-Tyze is also an effective deodorizer because it stops the growth of bacteria that can cause odors.
Color : Clear
EPA Registration Number : 10324-107-5741
pH: 6.0 - 8.0
Scent: Fragrance Free
Product Applications
Countertop/Counters
Food Prep Counter
Tables & Chairs
Click here for detailed product information and application instructions in PDF format.