NABC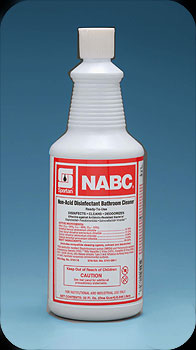 Sterile non-acid bowl cleaner not only cleans and disinfects, but serves as a powerful restroom deodorant. It is a safe, effective alternative to harsh acid products when used as part of a regular maintenance program. This hospital-grade disinfectant bowl and bath cleaner is formulated with special detergents and chelating agents for easy soil and mineral deposit removal.
Advantages:
Virucidal against HIV-1
Mildewcidal / Fungicidal
Pleasant, effective cleaning, fresh floral fragrance
Designed for institutional cleaning
Effective against "staph", salmonella and pseudomonas
Effective in the presence of 5% organic serum
For use on all hard surfaces
USDA C2 approved.