Lavenet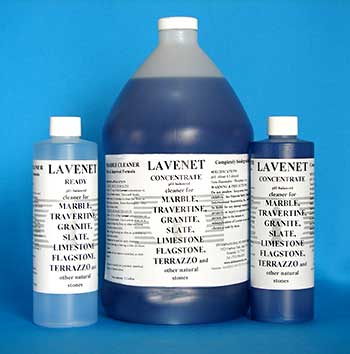 pH-balanced cleaner for natural stones
Lavenet is a concentrated synthetic liquid detergent. Lavenet can be used to safely clean marble and other natural stones. Lavenet is composed of top quality ingredients and special cleaning agents. It is easy to apply and economical to use. Lavenet is completely biodegradable.
APPLICATION
Lavenet can be safely used on Marble, Travertine, Granite, Slate, Limestone, Cross-cut Travertine and Tiles. Lavenet neutralizes surfaces cleaned or polished with acid-based chemicals.
METHOD APPLICATION

Heavy Duty Cleaning; Dilute 1/2 cup to 1 cup of Lavenet in 1 Gallon of water. Apply the solution on the surface to be cleaned. Clean with a brush or a floor buffer using a red pad. Rinse thoroughly.
Regular Maintenance; dilute 1/8 cup of Lavenet in 1 Gallon of water. Use a cotton or a sponge to clean the floor or other surfaces. Note: wring the mop as much as possible to reduce mop marks.
When used in recommended dilution ratio, it does not require rinsing and does not leave a film on surfaces.
PACKAGING:

Ready-to-use pint with trigger sprayer: use without diluting.
Concentrated Gallon: see dilution ratios above.
Concentrated 5 Gallon pail: see dilution ratios above.
SPECIFICATIONS
pH: About 10.5 undiluted
Non-flammable
WARNING & PRECAUTIONS
Do not swallow. Keep away from Children. Read Material Safety Data Sheet before using. International Stoneworks, Inc., will not be liable for any damage ensuing to property or injury to operator or any person due to the misuse or misapplication of Lavenet or any other chemical sold by them.
View SDS in Acrobat Reader PDF Format