Natural Stone Sealing
The following recommendations should serve as a guideline. For specific situations or special cases, please contact International Stoneworks, Inc. or call us at (800) 775-TILE.
We always recommend cleaning (or stripping) your stone and grout prior to sealing. Click here for more information about natural stone cleaning or grout cleaning.
Natural Stone Sealing Guidelines:
These tips can be used for marble sealing, granite sealing, sealing travertine, limestone and terrazzo.
We recommend protecting your stone at least once a year with Seal & Go® S or Seal & Go® W, water/stain repellent penetrating sealers.

Seal & Go® S is a water/stain repellent penetrating sealer. This sealer will not alter the natural appearance of stones. It will not add shine or color to the stone when applied correctly.

Seal & Go® W is a water-based, user friendly, environmentally friendly impregnating sealer. It contains no solvents and is VOC compliant in all 50 states.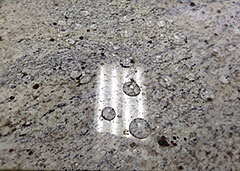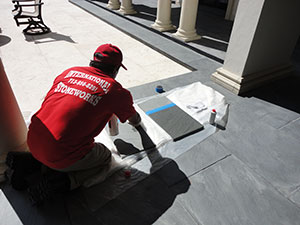 For flamed granite sealing, slate sealing, and flagstone sealing:
You can seal your flagstone, slate and flamed granite floors with Seal & Go® S or Seal & Go® W if you want a natural look.

We also offer Seal & Go® Enhancer S. This natural stone tile sealer is a water/stain color enhancer penetrating sealer. It will not add shine to the surface, but will darken or give more color to the stone when applied correctly.


Another option is to seal with Seal Out. This topical sealer will give shine to the surface of the stone.