Impregnators / Sealers
SEAL & GO® W
A water-based, user friendly, environmentally friendly impregnator sealer. It contains no solvents and is VOC compliant in all 50 states. Seal & GoŽ W is especially designed for interior stones and grout.
Available in 1 pt., 1 gal., and 5 gal.
Download Product Data Sheet in MS Word Format.
Download MSDS in MS Word Format
AS FEATURED IN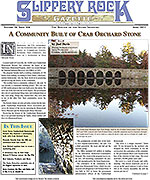 Slippery Rock Gazette - April 2012