New Services
SLIP RESISTANCE TESTING
International Stoneworks, Inc. now offers Slip Resistance Testing of floors with the most advanced field equipment in the market: the BOT-3000.
The BOT-3000 (Binary Output Tribometer) measures both static and dynamic COF (Coefficient of Friction) and it performs the following tests:
Dry Static
Wet Static
Dry Dynamic
Wet Dynamic
While static COF is a measurement of the force required to move a stationary object into motion, dynamic COF is a measurement of the resistance generated from a moving object coming into contact with an object at rest.
Dry testing results are based on ASTM (American National Standards Institute),
D-2047 slip-resistance standard.
Wet testing results are based on NFSI (National Floor Safety Institute) standard.
THE MARBLE INSTITUTE OF AMERICA (MIA), THE COUNCIL OF NORTH AMERICA (TCNA), THE CERAMIC TILE DISTRIBUTORS ASSOCIATION (CTDA) AND THE AMERICAN INSTITUTE OF ARCHITECTS (AIA) DO NOT MAKE SPECIFIC RECOMMENDATIONS AS TO WHAT AN ACCEPTABLE COEFFICIENT OF FRICTION SHOULD BE.
THE OCCUPATIONAL HEALTH AND SAFETY ADMINISTRATION (OSHA) DOES NOT MANDATE A PARTICULAR COF FOR WALKING/WORKING SURFACES, ALTHOUGH THEY DO MAKE A RECOMMENDATION THAT A WALKING SURFACE IN THE WORKPLACE SHOULD HAVE A COF OF 0.50 OR GREATER ON THE ASTM TEST. THIS IS ONLY A RECOMMENDATION AND NOT A REQUIREMENT.
Our trained technicians can provide you with:
Initial testing (after installation)
Periodic testing (monthly, quarterly, semi-annually or annually)
Call today for cost and further information
AS FEATURED IN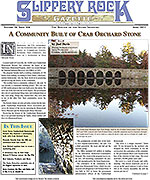 Slippery Rock Gazette - April 2012