Marble Care Systems
VER GLOW #1
A natural non-wax, non-acid abrasive compound for the thorough honing and cleaning of older and/or worn marble, travertine, limestone and other stones. Ver Glow #1 will not remove lippage. It prepares the stone for polishing with Ver Glow #2.
Available in 6 lb., 12 lb., and 50 lb.
Click here for detailed product information and application instructions.
AS FEATURED IN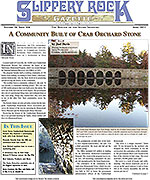 Slippery Rock Gazette - April 2012