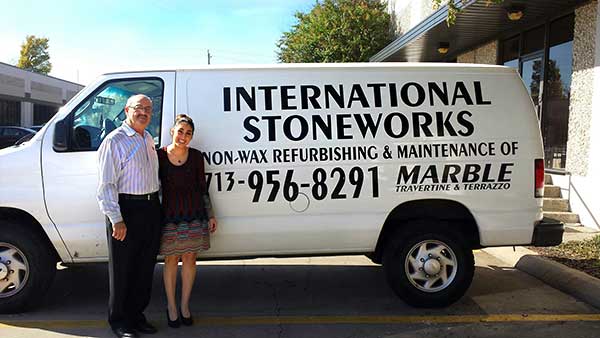 About Us
International Stoneworks, established in 1982 by Rawi Tabbah, is Houston's premier natural stone restoration and maintenance business. His daughter, Jacqueline joined him in 2009. Many prominent Texas buildings and homes have used International Stoneworks to clean, restore, protect, and maintain natural stones such as marble, travertine, granite (polished or flamed), slate, limestone (honed or polished), onyx, flagstone, terrazzo and other natural stones.
International Stoneworks has been an active member of the Marble Institute of America (MIA) since 1986 and has done work for commercial and residential customers in Houston and its surrounding cities, Dallas-Fort Worth, San Antonio and Austin. Not only does it perform stone restoration services, it also sells safe and efficient products in order for clients to maintain their stone investments.
All natural stones require specific and distinct products and cleaning supplies for care and maintenance. No one product can restore and maintain all natural stones. We have designed our line of stone care products to suit the characteristics of each type of natural stone. Our competent staff is ready to respond to your restoration or maintenance queries and needs. The restoration of natural stones and tiles should be handled by professionals, whereas the maintenance can easily be handled by individuals or a janitorial staff. For more information on stone care and maintenance, please please click here.
For more information on International Stoneworks, Inc. please e-mail us at sales@intlstoneworks.com or call 713-956-8291.